---
Run for Kids 5K Run/Walk and Fun Run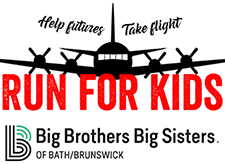 Race Info
Run for Kids 5K Run/Walk and Fun Run to benefit Big Brothers Big Sisters
Sunday, October 3, 2021 - 5K Run/Walk 10:00 a.m.
Kid's Fun Run ages 8 and under 9:30 a.m.
Sponsored by Flight Deck Brewing and Wild Oats Bakery & Cafe
All proceeds to benefit the Big Brothers Big Sisters of Bath/Brunswick
Medals & T-Shirts
Medals and T-Shirts will be provided only to 5K runners/walkers who register before August 4, 2021.
Prizes
Prizes will be awarded to the overall top male and female finishers of the 5K race as well as the top male and female within each age bracket below:
18 and under
19 - 29
30 - 39
40 - 49
50 - 59
60+
Entry Fee
Preregistration - 5K runner/walker $35.00 and team registration (4 runners/walkers) $120.00. There will be a $2.75 processing fee per runner/walker added at check out. Online registration will close at noon on September 29.
Kid's only Fun Run registration on day of race - FREE
Day of race registration 8:00 - 9:00 a.m.- 5K runner/walker $40.00
More Info About Big Brothers Big Sisters of Bath/Brunswick:
Race Policy
We will be following CDC and State of Maine guidelines in place on Race Day.
If the race is canceled due to extreme weather or due to COVID restrictions we will do our best to either pivot to a virtual race or reschedule. If in the event the race must be canceled we will consider all registrations as a donation to Big Brothers Big Sisters of Bath/Brunswick.
All runners and spectators will be expected to follow the State of Maine's most current COVID-19 restrictions/guidelines. Information will be posted closer to event date.
The race begins at 10:00 a.m. and registration opens at 8:00 a.m. on Race Day.
Race Disclaimer
I understand that running a road race is a potentially hazardous activity. I further understand that I should not enter the road race unless I am medically able and properly trained.
I agree to abide by any decision of a Race Official relative to my ability to safely complete the run.
I agree that all decisions regarding this race are final and at the sole discretion of race staff.
I assume all risks associated with running the event for myself and/or my child(ren) or of a child(ren) attending this event that is in my care; including but not limited to contact with other participants, the effects of weather (including high heat or humidity), traffic, and conditions of the course, all such risks being understood and appreciated by me.
I agree that my photo or likeness or that of my child(ren), or child(ren) in my care, may be used in Big Brothers Big Sisters of Bath/Brunswick marketing materials following the event including, but not limited to electronic formats such as the BBBS website and social media and/or in print advertising.
I will assume liability for any physical damages, legal actions, and/or loss of reputation or business opportunities that the Midcoast Regional Redevelopment Authority may incur as a consequence of my own actions or those of the child(ren) attending this event in my care.
Having read this waiver and understanding these facts, and in consideration of your accepting my entry, I, for myself and anyone entitled to act on my behalf, waive and release Big Brothers Big Sisters of Bath Brunswick, Flight Deck Brewing, Run In A Race, LLC, the Town of Brunswick, all race volunteers, all race sponsors, their representatives and successors from any claims or liabilities or causes of action of any kind arising out of my participation in this event.
Signing up for this race online serves as an agreement to the above for myself, the child(ren) in my care, and for those who are a part of our Team the day of the race.
---